How to Clean Your Flat Iron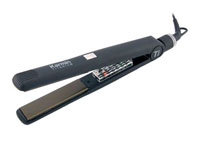 If you want to keep your hair straightening iron performing its best it is important that you keep it clean. Not only will this help it style more efficiently, but will also prevent unnecessary damage to your hair during use.
To clean your flat iron all you need is a soft cloth, if your flat iron has never been cleaned you may need a few cotton swabs as well. To clean your hair straightener, make sure it is turned off, unplugged and cool. Using the soft cloth which can be dampened with some warm water, simply wipe the plates on your flat iron. If you do this after every use you will keep residue from building up on the plates of your hair iron.
If your flat iron has never been cleaned there may be residue build up from your hair care products in the creases of where the plates connect to the iron. To clean these creases, use a damp cotton swab (Q-Tip) and wipe the area until clean. NEVER use anything sharp or pointy to clean these areas as not only can you scratch the plates but if you slip, and I have seen it, you can accidentally lift the plates from the iron, which then makes your hair iron of no use.
Thank you for visiting www.hairproductspro.com